Dr. McCarthy has benefited BIG from SMALL. She grew up in a small Wisconsin town and graduated with a class of 42 students from the Missouri School of Dentistry and Oral Health. After relocating to the Twin Cities from Omaha where she practiced for two years, it's fitting that she's joined Saint City Dental, a Big City practice that behaves like a small town, neighborhood business.
"The Missouri Dental program was a great fit for me," McCarthy explains. Her 41 peers became her dental family, welcoming individualized attention from faculty as well as the opportunity to gain dental experience few general dental students get to have, like wisdom tooth extractions, difficult root canals, special needs, and pediatric patients. She even obtained her Invisalign© certification which allows her to do orthodontia.
"I felt very prepared and competent graduating from my program." Two years in her Omaha practice, combined with her travel-dentist experience in Iowa, have taken her skills and confidence to a new level.
McCarthy and her husband recently moved to Minnesota to be closer to family and plan to make it their home. She was pleased to find a practice where her philosophy of care so aligned with Dr. Thomas's and Maley's.
"I liked the energy of this place right from the start. The team and patients are happy to be here. It feels welcoming, friendly, comfortable. I am looking forward to making Saint City Dental my lifelong work 'home.' "
So what can patients expect from Dr. McCarthy?
Listening. "I focus my first encounters on learning about you and helping you start to gain trust in me."
A relaxing serenade. "My patients tell me I hum while I work — no promises about staying on key."
Education. Answering questions, helping patients understand what it takes to have optimal dental health, working together to find solutions and agree on a treatment path — those are the parts of her job she loves most. "I'm a lifelong learner and enjoy staying current on new dental techniques and recommendations, so you can trust you'll be receiving the most up-to-date standard of care."
Updates on Amadeus, her dog.
When she's not doing dentistry, Dr. McCarthy enjoys hanging with Amadeus and her husband Nick. She's also a big foodie: always on the lookout for hidden gems and new cuisines. Other passions include visiting friends and family, traveling to her Northern Wisconsin cabin and beyond, and all things outdoors. And, of course, she's an athlete, so she'll fit right in with Iron Man Thomas.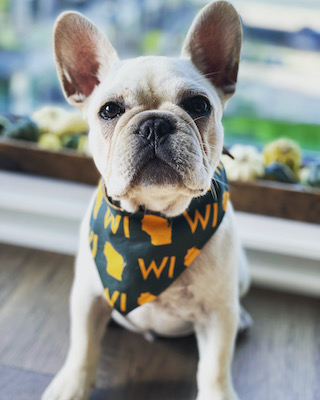 Special Distinctions
American Academy of Pediatric Dentistry Certificate of Merit, Outstanding Student Ambassador
President Delta Sigma Delta Dental Fraternity
FAQs
What made you want to become a dentist?
I have always had an interest in art and science and many childhood experiences led me to dentistry. Growing up, I had a severe lisp that slurred my "Ss" and wasn't cured through speech therapy. Orthodontics and expansion of my palate did though, finally giving me confidence to say my own name without being picked on. My mother is a hygienist as well. I was able to tag along to her office and volunteer at multiple Mission of Mercy events witnessing the life-changing impact providing a smile and dental care can give others, just as it had given me.
What's your philosophy of care?
Every patient is unique and so are their treatment needs. Understanding their goals and background allows me to create a customized dental care plan. I am a huge believer in knowledge-is-power and thoroughly enjoy educating my patients on preventing and fixing dental issues.
Why join up with Saint City Dental? What have you observed about this practice that makes you want to be a part of it?
From my first phone call with Dr. Thomas to my last visit with the Dr. Maley and team, I felt very welcomed and could tell the office had a camaraderie that has been longstanding. The team and patients were friendly and excited to be at the clinic and I could feel the positive energy. Dr. Thomas's and Dr. Maley's practice philosophies also aligned with mine and I can see myself working alongside them providing the "small town" of Saint Paul fantastic dental care.
What are you most excited about?
Getting started, bonding with the team, and meeting my new patients. I love building relationships and so much of dentistry is just that!